Our international reference customers
ASD Advanced Simulation & Design GmbH can count a large number of national and international customers among its client base. Among others, we are active for the following customers:
3M Company (US)
aap Implantate AG
Allmed Group (UK)
AntakaMatics, Inc. (US)
B. Braun Avitum AG
Biomet Deutschland GmbH
Bionic Medizintechnik GmbH
Boehringer Ingelheim microParts GmbH
Boehringer Ingelheim Pharma GmbH & Co. KG
BSH Bosch & Siemens Hausgeräte GmbH
Carlsberg Breweries A/S (DK)
CeramTec AG
curasan AG
Dohm Pharmaceutical Engineering
DOT GmbH
Drägerwerk AG
Fresenius Kabi Deutschland AG
Fresenius Medical Care Deutschland GmbH
Friadent GmbH
GEA Westfalia Separator Group GmbH
Gerresheimer Werkzeug-
und Automatisierungstechnik GmbH
Hamworthy Serck Como GmbH
inova pharma systems GmbH
INTEL Corporation (US)
Kanzler Verfahrenstechnik GmbH (AT)
Königsee Implantate und Instrumente GmbH
Lifebridge Medizintechnik AG
MAQUET Cardiopulmonary AG
Miltenyi Biotec GmbH
Nikkiso Co. Ltd. (JP)
Proline Profilsystem GmbH
QualiMed Innovative Medizinprodukte GmbH
Reederei Oldendorff
Robert Bosch Packaging GmbH
Roche Diagnostics GmbH
RWO GmbH – Marine Water Technology
Schering AG
Stadtwerke Flensburg GmbH
Stryker Trauma GmbH
Stryker Trauma – Selzach AG (CH)
tantum AG
TGE Gas Engineering GmbH
Trützschler Nonwovens GmbH
TSE Troller AG (CH)
Volkswagen AG
Xenios AG
Due to our expertise especially in the area of linking modern engineering simulation methods with biological modeling and prediction, ASD Advanced Simulation & Design GmbH has been involved in leading European research projects for more than a decade. These mainly concern the application of advanced information and communication technologies in the medical field as well as projects of the VPH (Virtual Physiological Human) – initiative for the virtual mapping of human organ systems.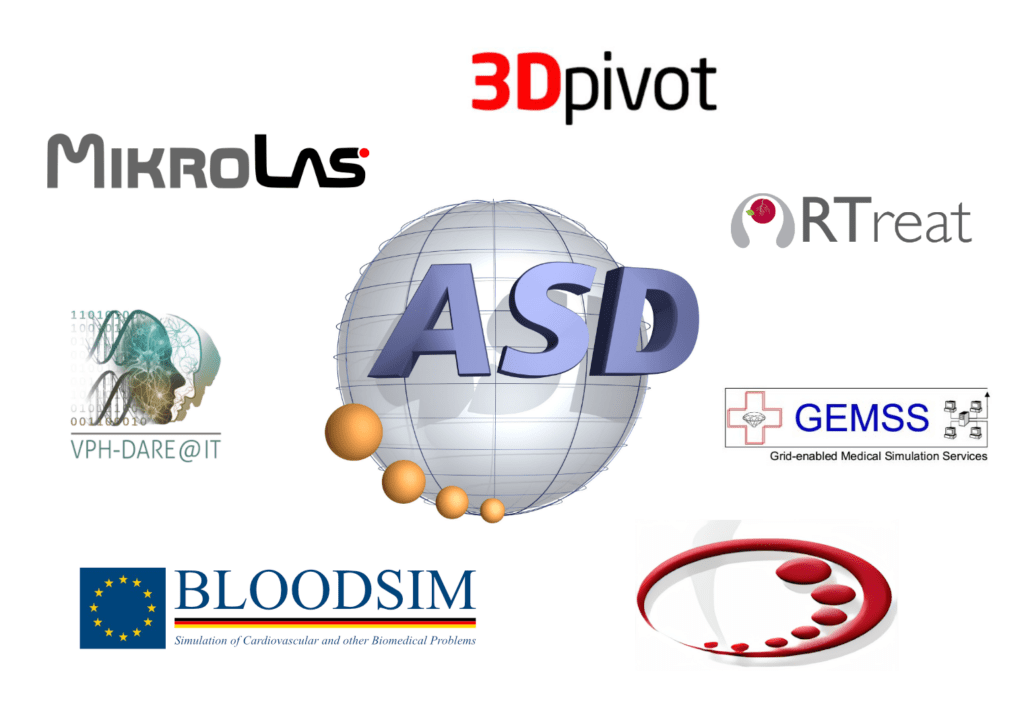 BLOODSIM (1998 – 2001)
Simulation of Cardiovascular and other Biomedical Problems
GEMSS (2002 – 2005)
Grid-Enabled Medical Simulation Services
@neurIST (2006 – 2009)
Integrated Biomedical Informatics for the Management of Cerebral Aneurysms
ARTreat (2008 – 2013)
Multi-level patient-specific artery and atherogenesis model for outcome prediction, decision support treatment and virtual hand-on training
VPH-DARE@IT
(2013 – 2017)
Virtual Physiological Human: Dementia Research Enabled by IT
MicroLas (2017 – 2020)
Surfaces shaped by photonics
3D Pivot (2018 – 2021)
3D bio-Printing for Insulin producing Vascularised Organs following Tumour resection
ASD Advanced Simulation & Design GmbH can build on a network of international partners in scientific institutions and researching companies, which enables necessary cooperations in the processing of interdisciplinary topics and in the experimental validation of simulation models or procedures.
Through close contacts to leading medical institutions, current medical topics and tasks can be taken into account and the necessary clinical evaluations of developed methods and procedures can be carried out.
ASD Advanced Simulation & Design GmbH is actively involved in regional, national and international associations and societies.
These include: – International Society for Artificial Organs
– International Society for Rotary Blood Pumps
– BioconValley e.V. primec GmbH Innovative Zerspanung und Lasermaterialbearbeitung infoprimec-gmbhdeTelefon: 0381 6302590 Innovationsforum "Plasma plus Umwelt" Koordination: neoplas GmbH marcel.beuneoplaseu neoplas GmbH Technologieentwicklung, Technologietransfer Technologiemarketing contactneoplaseuTelefon: 03834 515210 DISCIPULUS – The VPH Digital Patient Project VIDEO colin.boyleucl.acuk
Die ASD Advanced Simulation & Design GmbH kann auf ein Netzwerk von internationalen Partnern in wissenschaftlichen Institutionen und forschenden Unternehmen aufbauen, wodurch notwendige Kooperationen bei der Bearbeitung interdisziplinärer Themen und bei der experimentellen Validierung von Simulationsmodellen oder Verfahren ermöglicht werden.Durch enge Kontakte zu führenden medizinischen Einrichtungen können aktuelle, medizinische Themen und Aufgabenstellungen berücksichtigt sowie die notwendigen klinischen Evaluationen von entwickelten Methoden und Verfahren durchgeführt werden.Die ASD Advanced Simulation & Design GmbH beteiligt sich aktiv in regionalen, nationalen und internationalen Verbünden und Gesellschaften.Dazu zählen:
International Society for Artificial Organs
International Society for Rotary Blood Pumps
BioconValley e.V.